Course details
Super feeling MAX! Meat BAR flow · Standard course 【All-you-can-eat products 200 kinds and over 120 minutes all you can drink】 5,000 yen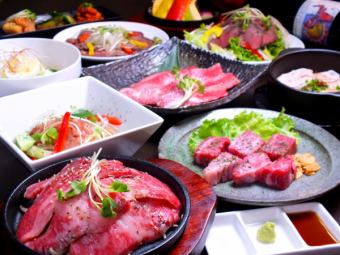 By using a coupon5000 Yen
Price is tax free
All-you-can-drink available

All you can drink menu over 200 kinds!
Reservation deadline

Until 22 o'clock the day prior to the desired shop visit date
Available days for reservation

Monday - Sunday - Public holidays - Holidays
Volume balance A plentiful standard course with a good sense of affordability! All you can drink as much as 200 kinds of 120 minutes, last order 120 minutes!
Course menu
Assorted appetizers
◆ Green Salad
◆ Red beef roast beef
Assorted grilled vegetables ◆
Assorted winer ◆
◆ Grilled beef tenderloin
◆ Pure chicken roast
◆ Wagyu Beef Barbecue
◆ On the Rice rice
Pork belly roast
◆ Grilled beef sirloin
◆ Salt sagar cabbage
◆ Shimmering noodles Morioka cold noodles
◆ Handmade Brammantier
With "meat"
"B" AR and
"A" BURI
"R" evo
"Flow"!
All-you-can-drink menu
· Draft beer (Asahi Super Dry)
· · Tumbler · glass · pitcher (not available at last order)
·Sake
· · Cold sake · hot
·Plum wine
· · Rock · water · soda · hot water · green tea · tea split · ginger split
· Glass wine
· · Red Takun Reserva Cabernet · White Takun Reserva Chardonnay · Each decanter (not available at last order)
·sangria
· · Red vigna albali sangria · white vina Alvari sangria blanca · each decanter (not at last order)
· Whiskey Highball
.. · straight · rock · water · high ball · cork high bow · ginger high ball · honey high ball · apple high ball
· Wine cocktail
· Red · Splitza Rouge · Cardinal · Kitty · Carimoko · Ginger Sangria White · Splitza · Keel · Operator · Symphony · Ginger Sangria Blanca
· Shochu
· · Potato black Kirishima · barley first bill · shiso forge high · buckwheat ichigo sea of ​​cloud · awamori residual wave · magazine moon · rock · water split · soda split · hot water split · oolong tea split · green tea split
· Shochu high
· · Cork hi · Ginger high · Orange high · Calpis high · oolong high · black oolong high · green tea high · black tea high · black high
·sour
· · Lemon · lime · grape · blue apple · pear · kiwi · pineapple · yuzu · pomegranate · muscat · grapefruit · Pokan
· Via cocktail
.. · Shandigafu · Diesel · Double Cultured
· Cocktail Cassis Peach Campari Mojito
· · Cassis soda · cassis orange · cassis grape · cassis oolong · cassis ice tea · cassis milk · peach soda · fuzzy guest · peach grape · peach oolong · peach milk · campari · soda · campari · orange · campari · grape · mojito · mojito ginger
· Cocktail Strawberry Melon
· · Strawberry Soda · Strawberry Orange · Strawberry Cork · Strawberry Ginger · Strawberry Icede · Strawberry Milk · Midori Soda · Midori Calpis · Midori Ginger · Midoritonic · Midori Milk · Tokyo Joe
· Cocktail Green Banana Banana Mango Yogurt
· · Green Banana Soda · Green Banana Ginger · Green Banana Milk · Banana Soda · Monkey Mix · Banana Ginger · Banana Ice Tea · Mango Soda · Mango Orange · Mango Ginger · Mango Milk · Yogur Soda · Yoguru Orange · Yoguru Calpis · Yogur Milk
· Cocktail Passion Blue Vodka
· · Passion soda · Passion orange · Passion grape · Passion cola · Passion ginger · Blue soda · Blue Calpis · Blue ginger · Blue tonic · Blue milk · Vodka ricky · Screwdriver · Bulldog · Moscommeure · Black Lucian
· Cocktail Jin Lamb Tequila
· · · Jin Ricky · Orange Blossom · Jim Buck · Gin Tonic · Rock · Lamb Soda · Lamb Calpis · Rum Coke · Lamb Back · Rum Tonic · Skydiving · Rock · Tequila Soda · Shangironggo · Tequila Calpis · Mexicola · Tequila Back · Tequila Tonic · Brave Bull
· Cocktail Kalua Green Limei
· · Kalua Rickey · Kalua · Orange · Calahor Cola · Kalua Oolong · Kalua Milk · Matcha Soda · Matcha Calpis · Luminous Forest · Double Green Tea · Matcha Milk · Rauchi Soda · Lychee Orange · Lychee Grape · Lychee Asia · Lychee Milk
·Non-alcoholic
· · Asahi Dry Zero · Gin Tonic · Cassis Orange · Chardonnay Sparkling · Red Wine Ronin (Glass)
·Soft drink
· · Oolong tea · Cola · Gingerae · Orange juice · Grapefruit juice · Calpis · Oolong tea · Green tea · Tea · Ice coffee
· Fruit soda (non alcohol)
· · Grapes · Blue apple · Pear · Kiwi · Pineapple · Yuzu · pomegranate · Muscat · Pokan
Coupons that can be used with this course
2018/12/11 update