Course details
Meat BAR Flow · Ultimate Course 【Cooking 14 items over 200 kinds of all-you-can-drink all-you-can] 6,000 yen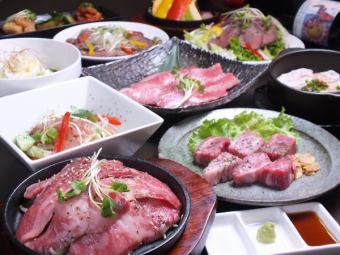 By using a coupon6000 yen
Price is tax free
All-you-can-drink available

All you can drink menu over 200 kinds!
Reservation deadline

Until 22 o'clock the day prior to the desired shop visit date
Available days for reservation

Monday - Sunday - Public holidays - Holidays
Beef! Beef! Beef! Drink while eating beef! Ultimate course of meat BAR flow! All you can drink is over 120 kinds of more than 120 kinds, the last order is also 120 minutes!
Course menu
Assorted appetizer (1 dish per person)
◆ Green Salad
◆ Beef with Yukke's formula
Assorted grilled vegetables ◆
◆ Grilled beef tenderloin
◆ Grilled beef peach
Wagyu Beef Caterpill
◆ Wagyu Beef Barbecue
◆ On the Rice rice
Wakame beef kai noodle
◆ Grilled beef sirloin
◆ Salt sagar cabbage
◆ Shimmering noodles Morioka cold noodles
◆ Handmade Brammantier
With "meat"
"B" AR and
"A" BURI
"R" evo
"Flow"!
All-you-can-drink menu
· Draft beer (Asahi Super Dry)
· · Tumbler · glass · pitcher (not available at last order)
·Sake
· · Cold sake · hot
·Plum wine
· · Rock · water · soda · hot water · green tea · tea split · ginger split
· Glass wine
· · Red Takun Reserva Cabernet · White Takun Reserva Chardonnay · Each decanter (not available at last order)
·sangria
· · Red vigna albali sangria · white vina Alvari sangria blanca · each decanter (not at last order)
· Whiskey Highball
.. · straight · rock · water · high ball · cork high bow · ginger high ball · honey high ball · apple high ball
· Wine cocktail
· Red · Splitza Rouge · Cardinal · Kitty · Carimoko · Ginger Sangria White · Splitza · Keel · Operator · Symphony · Ginger Sangria Blanca
· Shochu
· · Potato black Kirishima · barley first bill · shiso forge high · buckwheat ichigo sea of ​​cloud · awamori residual wave · magazine moon · rock · water split · soda split · hot water split · oolong tea split · green tea split
· Shochu high
· · Cork hi · Ginger high · Orange high · Calpis high · oolong high · black oolong high · green tea high · black tea high · black high
·sour
· · Lemon · lime · grape · blue apple · pear · kiwi · pineapple · yuzu · pomegranate · muscat · grapefruit · Pokan
· Via cocktail
.. · Shandigafu · Diesel · Double Cultured
· Cocktail Cassis Peach Campari Mojito
· · Cassis soda · cassis orange · cassis grape · cassis oolong · cassis ice tea · cassis milk · peach soda · fuzzy guest · peach grape · peach oolong · peach milk · campari · soda · campari · orange · campari · grape · mojito · mojito ginger
· Cocktail Strawberry Melon
· · Strawberry Soda · Strawberry Orange · Strawberry Cork · Strawberry Ginger · Strawberry Icede · Strawberry Milk · Midori Soda · Midori Calpis · Midori Ginger · Midoritonic · Midori Milk · Tokyo Joe
· Cocktail Green Banana Banana Mango Yogurt
· · Green Banana Soda · Green Banana Ginger · Green Banana Milk · Banana Soda · Monkey Mix · Banana Ginger · Banana Ice Tea · Mango Soda · Mango Orange · Mango Ginger · Mango Milk · Yogur Soda · Yoguru Orange · Yoguru Calpis · Yogur Milk
· Cocktail Passion Blue Vodka
· · Passion soda · Passion orange · Passion grape · Passion cola · Passion ginger · Blue soda · Blue Calpis · Blue ginger · Blue tonic · Blue milk · Vodka ricky · Screwdriver · Bulldog · Moscommeure · Black Lucian
· Cocktail Jin Lamb Tequila
· · · Jin Ricky · Orange Blossom · Jim Buck · Gin Tonic · Rock · Lamb Soda · Lamb Calpis · Rum Coke · Lamb Back · Rum Tonic · Skydiving · Rock · Tequila Soda · Shangironggo · Tequila Calpis · Mexicola · Tequila Back · Tequila Tonic · Brave Bull
· Cocktail Kalua Green Limei
· · Kalua Rickey · Kalua · Orange · Calahor Cola · Kalua Oolong · Kalua Milk · Matcha Soda · Matcha Calpis · Luminous Forest · Double Green Tea · Matcha Milk · Rauchi Soda · Lychee Orange · Lychee Grape · Lychee Asia · Lychee Milk
·Non-alcoholic
· · Asahi Dry Zero · Gin Tonic · Cassis Orange · Chardonnay Sparkling · Red Wine Ronin (Glass)
·Soft drink
· · Oolong tea · Cola · Gingerae · Orange juice · Grapefruit juice · Calpis · Oolong tea · Green tea · Tea · Ice coffee
· Fruit soda (non alcohol)
· · Grapes · Blue apple · Pear · Kiwi · Pineapple · Yuzu · pomegranate · Muscat · Pokan
Coupons that can be used with this course
2018/12/11 update